Difference between 13x4 lace front wig and 4x4 cosure wig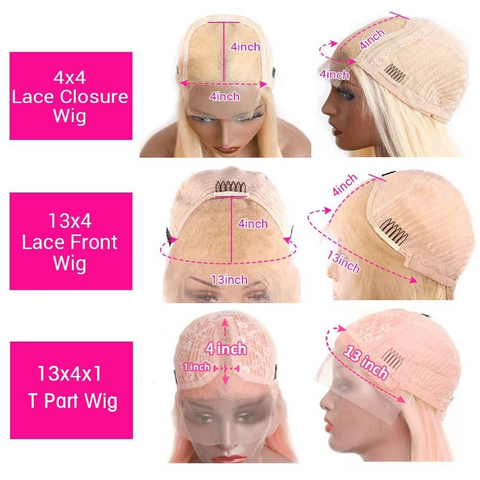 What Is 13x4 Lace Front Wig Meaning
13x4 lace front is constituted by half hand-tied lace and half machine-made wig cap. 13x4 lace wig is knotted in to the lace hole on the lace part and sewed onto the machine-made wig cap on the part of the machine-made part. But different with the human hair 4x4 lace closure wig, the lace size of the 13x4 frontal wig is 13 inches length by 4 inches width. 
What Is 4x4 Closure Wig Meaning
4*4 closure wig are made of hd lace closure, wig caps, and 100 human hair weave. It's different from the 13x4 lace front wig. The hairline and hair seam of 4*4 lace closure wig is made of lace closure. 4*4 Lace closure wig design can not only build a natural and beautiful hairline but also has affordable price. 
What Is T Part Wig Meaning
T part lace wig is extremely adaptable, and it may be styled in just as many ways as a lace front wig. The only machine-made element of a normal 13x4x1 T-part lace wig is the 13x4 shape parting space. This is an attempt to make lace wigs cheaper while yet maintaining a long, deep part. It is same as 13x4 frontal wig if you like the wig middle part. T-part lace wigs are a good option if you don't want to spend all of your money on a lace wig. 
♥Note:
Their prices have also changed due to the difference in lace area. Their prices in descending order are: 13x4 lace front wig, 4x4 closure wig, 13x4x1 t part wig. 13x4 can be styling at will, 4x4 can also be styling but there are limitations, t part wig can only be middle part, you can buy according to your own preferences.